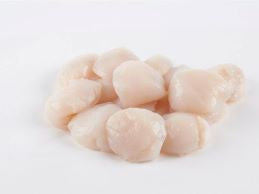 Large sea scallops from Boston-  1 lb (10-20 count per pound).  Dry packed so there are no chemicals or water added.

Scallops are rich in protein, low in fat, and a good source of heart-healthy omega-3 fatty acids. They also offer other nutrients, such as vitamin B12 and minerals.
They are a delicate texture and require very little cooking- pan sear, grill, or bake.