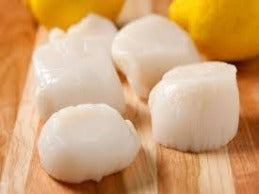 raw, individually quick frozen (vacuum sealed), dry packed
1 pound bag (under 10 count per pound)
THAWING TIPS: 

The best method for thawing is to place them in the refrigerator for 24 hrs, and then rinse lightly before cooking them.  Pat dry before cooking.
Don't thaw them in the microwave, they are too delicate and you will start to cook them.

If time doesn't allow for an overnight thaw, place your scallops in a zip-lock bag and run cold water over the bag till they are thawed.